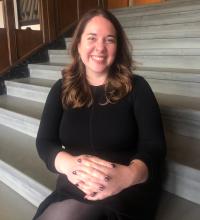 Pronouns
she/her/hers
Job Title
Embedded Social Worker, School of Education
Education:
MA from University of Michigan School of Social Work
MA from University of Southern Mississippi's Center for Writers
BA from Knox College
Professional Interests:
- Relationships
- Anxiety
- Depression
- Eating/Body Issues
- Grief/loss
- Mindfulness
- Social Justice issues (including the effects of capitalism, racism, sexism and gender identity/sexuality)
Approach to Therapy:
My therapeutic style aims to empower clients holistically, using a mix of methods including CBT, DBT, art therapy, and somatic approaches, while understanding that social issues like capitalism, racism, sexism, gender identity and sexuality can affect one's life and mental health. My practice of therapy is collaborative, and I use frameworks like intersectionality and feminism to inform my work with clients. My goal is to make clients feel welcome and safe as we strategize on better long-term mental, social, and emotional health.
Approach to Wellness:
I maintain my mental health and wellness by balancing my work and home life. I use many of the methods and strategies that I teach clients. For instance, I work on my breathing through yoga or equal breathing, I take long walks each day, I journal, I find creative outlets like water color painting, and I spend time with my dogs, family and friends. I also enjoy reading and seeing live music.
Supervisory Style:
My supervision style is collaborative and based in empathy. My goal is always to support and grow each clinician's strengths and interests. I am interested in speaking about ways that our social identities (gender, sex, race, sexuality, economic stability, etc) as clinicians affect the way that we practice, and how we can best support and empower our clients. My professional areas of interest include relationships, body and eating disorders, and anxiety.