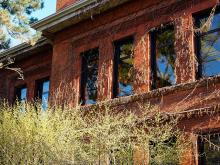 Pronouns
she/her/hers
Job Title
Embedded Psychologist, Rackham Graduate School
Education:
Pacific Graduate School of Psychology
Professional Interests:
- Graduate student mental health
- Trauma
- Social justice
- Issues impacting women
- Survivors of sexualized violence (sexual assault, dating/domestic violence, stalking, sexual harassment, and childhood sexual abuse)
- Anxiety
- Grief/loss
- Family of origin concerns
- Psychodynamic theory and symbolic expression in therapy, including use of dreams, art, and other creative modalities as part of therapeutic practice
Approach to Therapy:
My approach to therapy is collaborative, strength-based, creative, and insight oriented. I utilize an overarching theoretical orientation that incorporates psychodynamic, Jungian analytic practices, mindfulness, and current feminist perspectives which honors both the resiliency and strengths inherent in individual experience and multiple identities.
Approach to Wellness:
I believe that individual wellness and well-being is a continual balancing between pleasure and meaning in life. For me, I profoundly enjoy my work and it is part of my overall well-being, and I also greatly appreciate quality time with friends and family, spending time outdoors in nature, music, and a regular meditation practice.
Campus Liaison Relationships:
- Rackham Graduate School