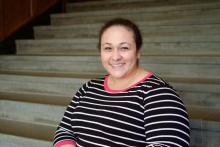 Pronouns
she/her/hers
Job Title
Embedded Psychologist, School of Nursing
Education:
Loyola University Chicago
Professional Interests:
- working with underrepresented populations (e.g. LGBTQIA+, first-generation students, students of color, etc.)
- identity development
- relationship with self and others
- life transition and adjustment
- family of origin concerns
- mood concerns
- supervision and training
- outreach and prevention
Approach to Therapy:
My approach to therapy is both integrative and collaborative. I utilize a client-centered and interpersonal orientation within a multicultural-feminist framework. I aim to work with individuals in a way that is empowering and strengths-based, in an effort to co-create personally relevant goals that gear individuals toward valued-living.
Approach to Wellness:
I am intentional about striving to create a strong work-life balance. In doing so, I enjoy exploring new areas and stumbling upon unique finds, going to the beach, viewing photography and street art, practicing mindful meditation, and joking with loved ones over coffee.
Supervisory Style:
I utilize a supervisee-centered approach toward supervision, working within a developmental and feminist framework. I aim to meet my supervisees in a supportive, empathic, authentic, transparent, and collaborative manner with the intention of helping facilitate positive growth and instilling confidence in one's strengths as a clinician.
Campus Liaison Relationships:
- School of Nursing