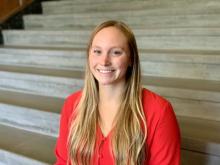 Job Title
Embedded Clinical Social Worker, College of Engineering
Education:
University of Michigan School of Social Work
Professional Interests:
- Life Transitions and Adjustment
- Holistic Well-being
- Identity Development
- Anxiety and Stress Management
- Student-Athletes
- Relationships
- Trauma
- Life Skill Development
- Self-Esteem and Confidence
- Faith and Spirituality
- Teaching and Coaching
Approach to Therapy:
My integrative approach to counseling students is strengths-based, collaborative and grounded in cognitive behavioral therapy and mindfulness strategies. I provide a safe and non-judgemental environment, where each individual can develop their self-awareness and resilience while becoming empowered to live their values and achieve their goals.
Approach to Wellness:
My supervisory style is collaborative, strengths-based and developmental. I believe it is critical to create an inclusive space that is supportive, empowering and encourages authentic self-reflection. My approach is supervisor-centered to meet each individual where they are and together establish ways to enhance their development and grow their confidence as a clinician.
Supervisory Style:
My supervision style is working from a standpoint of collaboration and transparency. Using our supervision meetings for gentle guidance, support, and growth. Together building a space for dialogue and education.