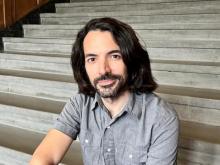 Pronouns
he/him/his
Job Title
Embedded Psychologist, School of Public Health
Education:
Palo Alto University
Professional Interests:
- Identity development
- Existential concerns
- Transitions
- Meaning-making
- Inter- & intrapersonal relationships
- Family of origin concerns/dynamics
- Race, culture, & societal dynamics
- Mindfulness
- Challenging/dismantling systems of oppression
Approach to Therapy:
I approach therapy with a strong sense of collaboration, openness, respect, and gratitude. I believe clients are experts in their lives, and I deeply appreciate the opportunity to be a part of their stories. I've been trained in numerous evidence-based treatment modalities and find that the best therapy is that which matches my client's needs in the present moment. I am reflective and engaged in treatment while focusing on my client's goals, not my own. Generally speaking, I approach therapy in a culturally humble fashion that blends humanistic and feminist treatment modalities.
Approach to Wellness:
I find that wellness varies daily, and it's important for me to be mindful of what types of activities will help my current needs. Being open, willing, and reflective helps me determine my current needs while finding the practices that support growth and overall wellbeing. I love spending time with loved ones while relishing in moments of solitude that help me connect with my environment. I enjoy practicing mindfulness, yoga, listening to music, playing video games, and supporting my loved ones in meaningful ways. I also love animals, discussing philosophy, and finding ways to create positive change in my community.