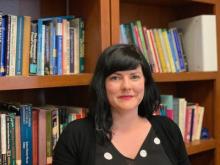 Job Title
Embedded Clinical Social Worker, School of Social Work
Education:
Rutgers University
Professional Interests:
- Sexuality and sexual orientation
- Sexual trauma
- Intimate partner violence
- Women's Issues
- Gender Identity
- Obsessive Compulsive Disorder and OCD related disorders
- Anxiety
- Social justice
Approach to Therapy:
As a social worker, my goal is to create a non-judgmental, trauma-informed, supportive space that facilitates empowerment and honors multiple social identities. My approach is trauma-informed, strengths-based drawing from interpersonal/relational, cognitive behavioral, solution-focused, mindfulness, and emotionally-focused therapy techniques. I have trained in Exposure and Response Prevention therapy for OCD and am currently enrolled in a sex therapy certificate program.
Approach to Wellness:
My approach to wellness starts with a foundation of adequate rest, exercise, and nutrition. I spend as much time as possible doing things I enjoy, like playing video games, listening to music, and reading. I am constantly striving to be in the moment, to check in with myself about my needs, and ensure I take extra care when needed.
Supervisory Style:
My approach to supervision is collaborative, strengths-based, and developmental. I strive to offer a space that balances development of clinical/professional identity and support around acclimating to and navigating the UCC environment. My goal is to establish a safe, trusting relationship that allows for supervisee openness and feedback. As a CAPS therapist I practice as a generalist, but my areas of clinical specialization include sex therapy, sexual trauma, OCD, and women's issues. I deeply enjoy supervising and mentoring trainees and strive to bring warmth, approachability, and humor to the relationship.