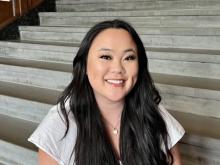 Pronouns
she/her/hers
Job Title
Embedded Social Worker, College of Engineering
Education:
Ball State University
Professional Interests:
- Identity development and exploration
- Transracial and transnational adoptee concerns
- Life adjustments and transitions
- Women's issues and empowerment
- Multicultural concerns
- Academic stress and anxiety
- Perfectionism
- Parent-child relational concerns
- Relationship concerns
- Family of origin concerns
- Systemic oppression
- Social justice issues
Approach to Therapy:
I strive to nurture client relationships through the use of collaboration, empowerment, openness, and respect. I help clients navigate their thoughts, beliefs, and emotions while encouraging them to find and develop their own voice, use that voice, and challenge the status quo/any systemic barriers they might encounter. I feel very privileged to have the opportunity to be a part of each client's journey of self-exploration and growth. I tend to utilize holistic and integrative therapeutic approaches rooted in multicultural counseling, feminist theory, systems theory, cognitive behavioral therapy, dialectical behavior therapy, narrative therapy, motivational interviewing, and person-centered therapy.
Approach to Wellness:
My approach to wellness consists of carving out intentional time in my schedule to spend quality time with my friends and loving family and engage in activities that bring me joy. I enjoy going on walks, watching tv, singing karaoke, playing ukulele, trying out new food places, and making up random comedy sketch ideas.
Supervisory Style:
I aim to create a safe, transparent, collaborative, culturally responsive, and strengths-based learning environment to help facilitate supervisee growth both clinically and personally. I believe in the importance of self-exploration and reflection regarding overall wellness and achieving one's goals and aspirations. I feel so much gratitude to be given the opportunity to work alongside individuals in finding their own therapeutic voice and rhythm.