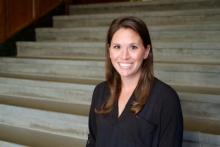 Pronouns
she/her/hers
Job Title
Assistant Director for the Embedded Model, Embedded Social Worker, School of Music, Theatre & Dance
Education:
The University of Michigan School of Social Work
Professional Interests:
- identity development
- life transitions and adjustment
- relationship difficulties
- trauma
- eating and body image issues
- perfectionism
- anxiety and depression
- Performance including: performance anxiety, impact of injury on performance and identity, emotional expression
Approach to Therapy:
I use an integrative approach to therapy, finding treatments that best match my clients' needs. My work is influenced by relational and psychodynamic principles and I draw from DBT, ACT, and strength-based perspectives. I aim to provide a supportive, warm, non-judgmental space where clients can feel safe to explore their areas of concerns together with empathy, compassion, authenticity, and humor.

I am passionate about helping others thrive, professionally, interpersonally, and most importantly in their relationship with themselves.
Approach to Wellness:
I truly feel that as clinicians, we need to take our own advice. Therefore, when I encourage students to prioritize their self-care, I take this challenge myself and try to incorporate wellness and stress reduction into my daily life. I enjoy making time to laugh, try new things, practice self-compassion, and remain physically active.
Supervisory Style:
I am collaborative in my approach to supervision and absolutely don't see it as a one size fits all. Similarly to my clinical approach, I am very curious to hear from the supervisee what they are hoping to get out of our work together. I draw from their strengths and pay attention to where they are in the field and often tailor our time based on these pieces. I try to bring humility, humor, and honesty to my supervision and see supervision as a really valuable part of our work as clinicians.
Campus Liaison Relationships:
- School of Music, Theatre & Dance