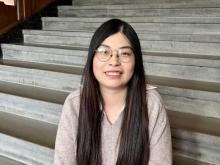 Pronouns
she/her/hers
Job Title
Embedded Psychologist, School for Environment & Sustainability and a Central Staff Psychologist
Education:
Brigham Young University
Professional Interests:
- International students
- Academic anxiety
- Stress management
- Perfectionism
- Religion and cultural identity exploration
- Eating concerns
- ADHD
Approach to Therapy:
Coming from a multicultural background, I love to approach therapy with humanistic lenses to create supportive and bonding alliances with clients to meet where they are at. Additionally, I often use Emotionally Focused Therapy (EFT) and Compassion Focused Therapy (CFT) for students coming from diverse backgrounds, and to meet the developmental needs for college population. I speak both Mandarin and English.
Approach to Wellness:
I love to read romance novels, watching stand-up comedies, and bringing myself to nature when needed. I tried to take breaks to journal and sing karaoke to express my feelings.
Supervisory Style:
I like using attachment-caregiving model to help the supervisee feel safe in the supervision relationship. I strive to be warm and humble on every element that is brought into supervision, to explore and adapt my supervisory approaches to meet the supervisee's needs.