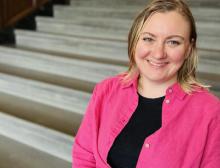 Pronouns
She/her
Education:
Lesley University, Cambridge MA
Professional Interests:
- Systems Theory
- Trauma-Informed
- Feminist/Relational Theory
- Expressive Arts Therapy
- Strength-based
Approach to Therapy:
I integrate various specialties including mindfulness, stress management, trauma informed, culturally competent and expressive therapies. I believe in the importance of working from a client-centered, strength-based and relational approach. I offer a supportive and open-minded therapy setting to help navigate life's various stressors. I can assist with short-term goals to increase coping skills and promote self-exploration. I provide therapy services for people from a variety of cultural backgrounds and diverse communities.
Approach to Wellness:
Wellness is an integrative part of mental and physical health. My personal approach to wellness includes mind/body connection. I enjoy physical activity such as biking, taking long walks, yoga and Barre. I also find acupuncture and massage incredibly helpful in moving stagnant energy out of the body. In addition, humor, fun and adventure are incredibly important for mental/physical balance and healing!