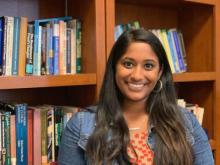 Pronouns
she/her
Job Title
Embedded Psychologist, LSA Graduate Students
Education:
The Chicago School of Professional Psychology
Professional Interests:
- Identity development
- Relationships
- Sexual health/sex positivity
- Anxiety and depression
- Trauma-related concerns
- Self-esteem/self-compassion
- Concerns related to South Asian identities
Approach to Therapy:
My clinical work utilizes several approaches including cognitive-behavioral, psychodynamic, and interpersonal/relational techniques to help client's further gain an understanding about their identity, sense of belonging, and self-compassion. I strongly believe in the importance of building a strong therapeutic relationship that is collaborative and client-centered in order to facilitate overall wellness and growth.
Approach to Wellness:
In my spare time, I enjoy trying new places/new foods, cooking, and spending time with family and friends. I also spend a lot of my time exploring downtown Detroit (especially for sporting events), binging TV shows/movies, and reading.
Supervisory Style:
My supervisory style is strength-based, collaborative, supervisee-focused and developmental. I believe that our trainees have various skills, expertise, and experiences that impact their individual training needs. I value open communication and strive to be as supportive as possible in whatever capacity needed (i.e. mentorship, clinical supervision, advocacy within training, etc.).