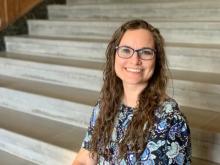 Pronouns
She/her/hers
Job Title
Embedded Psychologist - School of Information
Education:
Spalding University
Professional Interests:
- Anxiety
- Trauma
- Grief
- Eating and body image
- Identity development and individuation
- First-generation college students
- International students
- Family of origin concerns
- Outreach and prevention
Approach to Therapy:
I approach therapy with students in a collaborative manner to identify goals and build on the resilience skills. I utilize an integrative model, which includes Cognitive Behavioral Therapy, Acceptance and Commitment Therapy, and Time-Limited Dynamic Therapy, informed by multicultural frameworks. Values exploration is an important aspect of my work with students. I strive to create a trusting atmosphere where students can heal and express their authentic selves.
Approach to Wellness:
I recognize the importance of seeking balance. My favorite way to unwind is by reading or listening to podcasts. I also love spending quality time with my family, cooking, and walking.
Supervisory Style:
My supervision style is developmental and collaborative in nature. I always strive to create a supervisory relationship where supervisees are comfortable approaching me with questions and not afraid to receive gentle, constructive feedback. I always prioritize supervisee goals and future career aspirations for guiding the focus of my supervision.