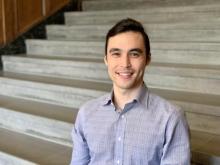 Pronouns
he/him/his
Job Title
Staff Social Worker
Education:
Washington University in St. Louis
Professional Interests:
- Anxiety and stress management
- Depression
- Resilience
- Adjustment
- Student athletes
- Family of origin concerns
- Social justice
- Outreach and prevention work
- Peer support
- Self-care
Approach to Therapy:
I approach therapy in a collaborative, clinically integrative way to work toward meeting each student where they are. I primarily draw from psychodynamic and cognitive behavioral modalities within a framework that is client centered, multicultural, and empowerment focused.
Approach to Wellness:
I enjoy all things outdoors, from running, to camping, to floating down the Huron RIver. My wellness also revolves around time with famly and friends, music, board games, and writing.
Supervisory Style:
As a supervisor, my primary objective is to help cultivate a safe, trusting supervisory relationship. I provide supervision in a collaborative, developmental, empowerment-focused style. Woven into this style is a consistent exploration of identity, power and privilege, and multiculturalism, not just in relation to the clinical work but also within the supervisory relationship itself. I deeply value supervision, and through this work I enjoy helping to facilitate growth, as well as learning and growing from those I supervise.