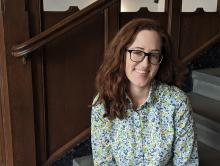 Pronouns
she/her
Job Title
Embedded Psychologist, Ross School of Business
Education:
Carlow University, Psy.D.
Roosevelt University, M.A.
Grand Valley State University, B.S.

Professional Interests:
- Anxiety/stress
- Communication and relationship difficulties
- Creating healthy social media and technology use
- Identity and values exploration
- Outreach and prevention work
- Self-care/collective care and creating healthy habits
- Self-esteem and perfectionism
- Supporting underrepresented and marginalized students (e.g., LGBTQIA+, first-generation students, students of color, international students, non-traditional students, etc.)
- Trauma
Approach to Therapy:
In my approach to therapy, I strive to help students feel safe to bring all facets of their identities into our time together. I believe feeling heard and understood as your true authentic self lays the groundwork for us to create positive changes in your life. I work to balance making space for students to share and process their experiences while also empowering them in making practical, tangible, changes to their situation, thoughts, and reactions. I tend to take an integrated approach, drawing on CBT, behaviorist, DBT, and psychodynamic orientations. My goal is to be your partner in our work toward your wellness and to give you the tools to maintain your well-being for yourself.
Approach to Wellness:
I work to maintain my own wellness through spending time with friends and family, enjoying good food, being in nature, watching my favorite shows (often sci-fi!), going for walks, and reminding myself to appreciate the small things in life.