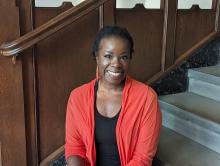 Job Title
Embedded Psychologist in Comprehensive Studies Program within the College of Literature, Science, & the Arts
Education:
University of Indianapolis
Professional Interests:
- Identity Development
- Trauma
- Multiculturalism
- Social Justice
- Adjustment
- Mindfulness
- Stress-Management
Approach to Therapy:
I work from an integrative framework that incorporates systems, person-centered, and multicultural approaches. I strive to work collaboratively and creatively with my clients. My goal in working with my clients is to empower them to live their truth and to provide a safe space for them to explore who they are and who they want to become.
Approach to Wellness:
I enjoy riding horses, spending time with family and friends, and creating art. I also love to travel and take in new cultures and parts of the world.
Supervisory Style:
My approach to supervision is collaborative. I draw from both feminist and person centered perspectives and use those as a framework to facilitate self-reflection and growth. I value authenticity and genuineness and strive to create a safe space for supervisees to explore their personal and professional identities. I believe in using a strengths based approach to help build confidence and to facilitate learning.