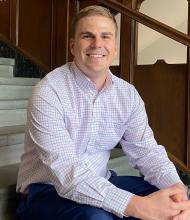 Pronouns
he/him/his
Job Title
Embedded Psychologist, School of Kinesiology
Education:
Eastern Kentucky University
Professional Interests:
- ADHD
- Anxiety
- Depression
- Family of origin
- Trauma
- Multicultural and social justice work
- Enhancing performance through cognitive approaches
Approach to Therapy:
I approach therapy in an integrated manner, most frequently incorporating tenets of cognitive behavioral therapy via interpersonal and multicultural lenses. Likewise, I make strong efforts to be collaborative in-session and truly believe therapy should be tailored to individuals' unique beliefs, cultures, and values.
Approach to Wellness:
I am a strong believer in holistic, balanced wellness. Weightlifting, running, playing competitive sports, and spending time outdoors are some of my own, personal means of seeking physical wellness. In an effort to seek balance, I similarly spend time utilizing creative outlets such as reading, playing video games, and learning new hobbies.

Supervisory Style:
I primarily utilize developmental and multicultural approaches in supervision, tailoring my style to supervisees' individual needs. Values such as openness, authenticity, approachability, and humor are incredibly important to me. I believe supervision should be a comfortable and supportive atmosphere to facilitate growth as clinicians as well as individuals.