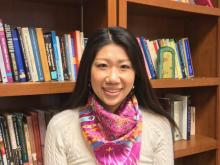 Job Title
Embedded Psychologist, College of Pharmacy and School for Environment and Sustainability
Education:
University of North Dakota, Grand Forks
Professional Interests:
- Family of origin issues
- GLBTQ issues
- international students
- Acceptance and Commitment Therapy
- Dialectical Behavioral Therapy
Approach to Therapy:
My approach to therapy is integrative with a primary emphasis on multicultural perspectives and mindfulness acceptance. I support students in recognizing what they do or do not have control over, and collaboratively work with them in changing what we can control, as well as accepting and letting go of what we can't control. I also work with students in recognizing our values or what are most important to us, and refine our behaviors so they become more consistent with our values.
Approach to Wellness:
Running outside with my dog and enjoying nature is my approach to wellness and my way of staying connected.
Supervisory Style:
In providing supervision, I start with the supervisee's professional goals and support the trainee in achieving the goals in every supervision session. We periodically review the progress toward the goals and made adjustments accordingly.
Campus Liaison Relationships:
- College of Pharmacy