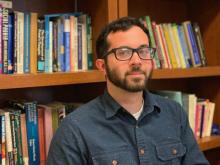 Job Title
Office Services Assistant
Education:
Eastern Michigan University
Approach to Wellness:
My approach to wellness is centered around staying active both physically and mentally. I enjoy playing disc golf, soccer, and going kayaking. I keep my mind active by reading, playing video games and boardgames. Spending time with friends and family is also an important part to wellness. Whether it be having a board game night, trying a new restaurant, or doing a hot wing challenge.