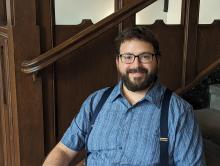 Pronouns
he/him/his
Job Title
Embedded Psychologist, Ross School of Business
Education:
Wright State University School of Professional Psychology
Professional Interests:
- Relationship issues
- Social and communication issues
- Trauma
- Grief and loss
- Identity Development
- Life transitions
- Family of origin concerns
- Emotion identification and regulation
- Systemic issues and empowerment
- Multicultural concerns
- Outreach and consultation
Approach to Therapy:
I approach therapy from an integrative perspective, emphasizing humanistic, interpersonal, and feminist lenses. At its core, my approach is one that focuses on an individual's development and growth, including emotions, identity, relationships, and the systems in which that person lives (e.g., school, family, work). I work to be collaborative with all of my clients to help them achieve what is most important to them. This involves creating a warm, welcoming, and accessible space and building trust over time.
Approach to Wellness:
In both my professional and personal life, I am a geek at heart. As such, I'm always seeking out good books and movies, playing games, and learning new things for the trivia show on which I'll probably never be. I'm also a crafty person, so I really enjoy crafting cards and other gifts for people as well as decorating. Food is an important part of my family culture and so I really love cooking and gardening as well.
Supervisory Style:
My supervision style is both developmental and feminist in nature. My primary interest is to help meet a supervisee where they are at developmentally and focus energy on helping them grow in ways most important to them. To do this, I emphasize a cultural humility lens and try to stay curious about my supervisees. It is also important for me to co-create a space for my supervisees that focuses on a collaborative and egalitarian relationship with a consistent focus on diversity.