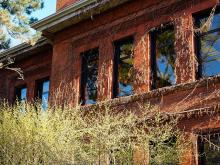 Pronouns
she/her/hers
Job Title
CO Social Work Intern
Education:
Frostburg State University
Professional Interests:
- Mental health of first-generation students
- Central American collectivist cultures
- Anxiety
- Imposter phenomenon
- Intersectional identities
- Racial and social justice
Approach to Outreach:
My belief about outreach is that it must be a collaborative effort. I'm a firm believer that when working with a population, it is imperative to ask members of the community what resources they require and include them in the change process all the way through. I approach communities as a learner and an aid, not as "the expert". As dual intellectual citizenship theory maintains, people are the experts in their own experiences, and as such I plan to maintain cultural humility, empathy, and be a positive, helpful part in the community. I am also interested in creative outlets as being a tool for outreach.
Approach to Wellness:
I try to be very introspective and mindful in order to take care of myself. I enjoy hanging out with friends, I spend time with my family to reorient myself on days where I feel I need more support, and I enjoy watching all kinds of movies, shows and videos pertaining to popular culture and history. I also listen to music and play with fidget toys to keep me focused and to manage anxiety.