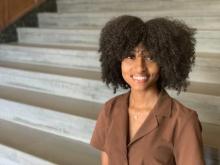 Pronouns
she/her/hers
Job Title
Post MSW Fellow
Education:
University of Michigan
Professional Interests:
- Grief
- Spirituality and Faith
- Identity Development
- Emotion Regulation
- Family of Origin Concerns
- Anxiety
Approach to Therapy:
I enjoy working collaboratively to establish a foundational relationship. Interconnecting emotions, thoughts, and physical experiences to create a deeper understanding of the whole self. Utilizing a holistic approach to therapy I aim to empower and support the individual.
Approach to Wellness:
Recently, I've enjoyed finding new trails along the city. Connecting with myself and staying in contact with friends and family. I also love watching unrealistic action movies.
Supervisory Style:
My approach to supervision is collaborative, strengths-based, and developmental. I strive to offer a space that balances development of clinical/professional identity and support around acclimating to and navigating the UCC environment. My goal is to establish a safe, trusting relationship that allows for supervisee openness and feedback. As a CAPS therapist I practice as a generalist, but my areas of clinical specialization include sex therapy, sexual trauma, OCD, and women's issues. I deeply enjoy supervising and mentoring trainees and strive to bring warmth, approachability, and humor to the relationship.