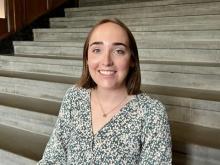 Job Title
IP Social Work Intern
Education:
University of Michigan School of Social Work
Professional Interests:
- Identity development
- Relational and interpersonal concerns
- Mindfulness
- Multicultural concerns
- The mind-body connection
- Culturally-sensitive psychotherapy
- Trauma informed therapy
Approach to Therapy:
I focus on building a relationship of trust, empathy, and respect. I believe in empowering one to be their most authentic self. I hope to create a comfortable and safe environment where we can work together to gain an understanding of how to navigate life's challenges.
Approach to Wellness:
I am a huge advocate for holistic health, I believe our physical, social, and emotional health all intertwine. I enjoy spending time with friends and family, reading, exercising, and cooking or eating good food. I also enjoy practicing mindfulness and deep breathing.